In 2012 it became clear that a federation needed to be founded. The sector met on a regular basis, giving shape to the foundations of the network. In 2019 the non-profit association Belgian Worldwide Music Network was officially established.
Below you will find an overview of the network's formal and informal activities.
You will find all the reports of these gatherings here.
2020
19 May: Digital meeting bringing together around 200 people. 3 digital workshops, the first of which was held in parallel in 2 languages (World music and SABAM: focus on copyright and financial aid, Surviving in Corona times, Social Media, tips & tricks). For health reasons, postponement of the Belgium World Music Night.
From July to December: participation of the BWMN in the Chambre de Concertation des Musiques and the Conseil Supérieur de la Culture of the Fédération Wallonie-Bruxelles.
09 November: Digital meeting with about 150 people. 2 digital workshops (World Music … what's in a name? and Surviving in Corona times, part 2). Belgium World Music Night postponed again.
08 December: Digital General Assembly followed by a workgroup "World Music … what's in a name?"
2019
Establishment of the Belgian World Music Network as a non-profit association
23 May: second official gathering of the BWMN gathers 80 people at Espace Magh in Brussels: plenary session, 2 debates and 4 workshops (digital promotion, touring in BE and abroad, copyrights and traditional music)
11 June: official showcases in the AB with 4 live groups + DJs: Vardan Hovanissian & Emre Gültekin; Rafael Aragon; Gan San; Susobrino; EKKO; Fanfara electronica; High Jinks Delegation
Election of the new members of the Board of Directors and election of the active and associate members. A large number of members joins.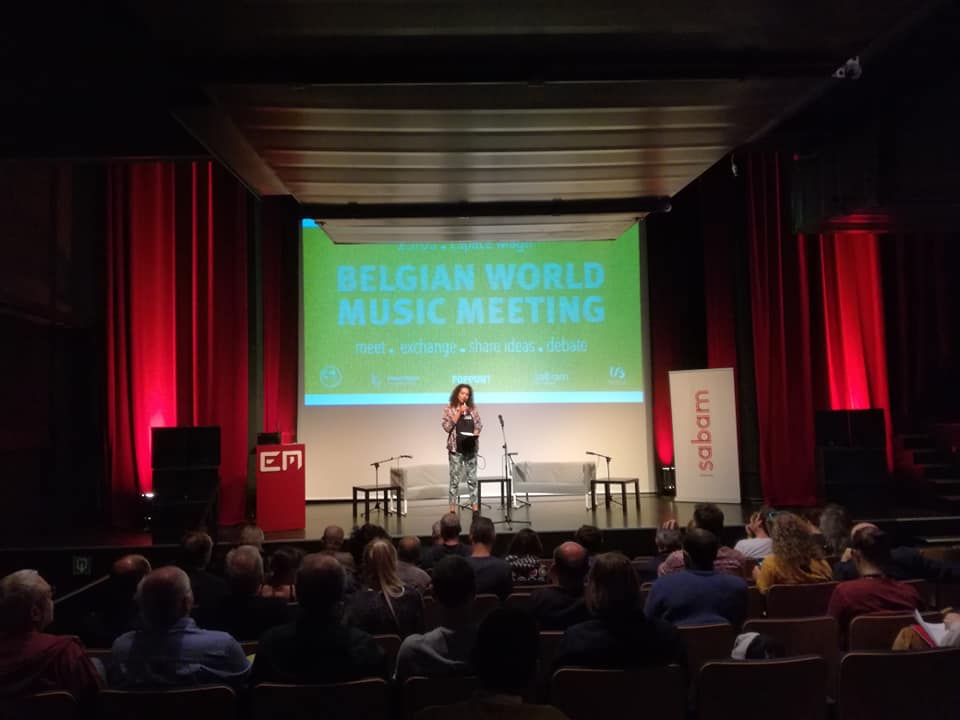 2018
18 May: first official gathering of the BWMN at Muziekpublique (Brussels) with 88 participants
Plenary session with guest speaker Etienne Bours, a world music specialist
4 workshops on different themes (training, world music and electronic music, etc.)
Official showcases (selected by an external jury) at Muziekpublique: Marock'in Brass, Rebel Up (DJ set), Seyir, Wör, Tamala
2017
17 March: gathering at Globe Aroma (Brussels) with 70 participants from the sector. Relaunch and development of the network that becomes bilingual and welcomes new members from the Wallonia-Brussels Federation
Launch of the concept of the charter
17 June: gathering at De Centrale (Ghent), presentation by the research department of the VRT (Thomas Coppens) + press promotion (Philippe De Groote) + debate
17 October: gathering at La Sauvenière in Liège / 35 participants / debate: 'Is there still room for world music in the Wallonia-Brussels Federation?'
2016
Inspiration day on Radio 1
New press release
Meeting with the Flemish Arts Cabinet
2015
Operation 'Measuring world music' on Radio 1
Application for the position of world music expert at VRT
2014
Campaign on Radio1 (VRT) for more musical diversity on the radio
Press release, launch of the Radio 1 petition
Dialogue with the VRT
2013
13 March: gathering at De Centrale (Ghent) with 100 participants; workshops and debates with Philippe De Coene (Culture Commissioner), Gerrit Kerremans (VRT music coordinator), Bleri Lleshi & Lieven Verstraeten (VRT, moderator)
13 April: gathering at Rataplan (60 participants), workshops-discussions on different themes
2012
First gathering of professionals of the network as a result of shared frustrations: lack of media attention for world music, negative image of multiculturalism spread by various political movements, etc.
12 June: 70 participants at Muziekpublique